Undersheriff John Gomes Endorses Williams for Teller County Commissioner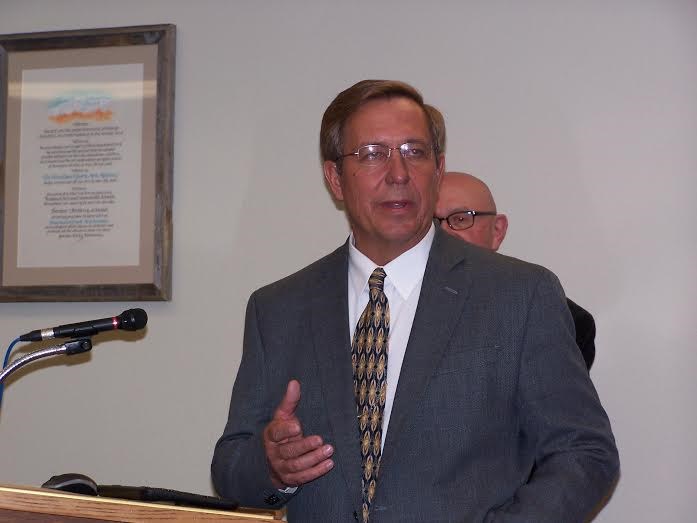 Entire Text of Undersheriff John Gomes' Endorsement
of Dan Williams to Serve as Next Teller County Commissioner, District 1:
My name is John Gomes, I am currently the Teller County Undersheriff and former Deputy Chief of Police at the Woodland Park Police Department. I have served our community for the last 36 years. I raised my family in this community, I made Teller County my home and have stayed here because of the people, friends, neighbors, businesses, the culture, our small town atmosphere, our caring, and of course the beautiful landscape with our majestic mountain watching over us. I care about our community and therefore know choosing the right Teller County Commissioner that embodies the same values, principles and lifestyle that makes me call Teller County my home is a decision, I do not take lightly. That's why there's really only one choice, I support and endorse Dan Williams for Teller County Commissioner for District 1, without any hesitation. I ask all of you to do the same, if you want the right, most qualified, experienced, proven leader that is dedicated to our community and understands our needs, electing Dan Williams is the right choice.
Over the years I've had the pleasure of working with both City and County leaders at all levels of government. Before that, I spent over a decade in the United States Air Force where again, I was led by some truly great leaders. I know the qualities that many great leaders possess such as clarity, decisiveness, courage, passion and humility just to name a few. I have sensed, as most of you probably have and experienced that feeling of safety and security when you're around a person that has true leadership abilities and qualities, someone who takes control and you know is doing a great job. It's really easy for most of us to describe the difference between bad leaders and good leaders from our life experiences or jobs. I will tell you that Mr. Dan Williams is one of those exceptional leaders that dedicated, decisive, has passion and you know in your heart, will do the right thing, all the time. He is a great leader and cares about our community and the people that live here. He demonstrates this through examples not just words.
Dan also calls Teller county home and is proud to say those words. He understands our issues such as traffic, housing, employment, growth, issues in our National Forest such as homelessness, littering, and the increase in State land use, all that directly affect us. Of course, these are only a few of the many issues Teller County is facing in the future. Dan has been involved in all sectors of our community. He is a person and a leader you will remember throughout your life.
In my career it's important to make decisions for the right reasons, make decisions that are based on keeping our community safe, care taking for those who need help, standing up for what is right and doing it without hesitation to keep others safe. These are the same principles and qualities, I see in Dan Williams and he displays them on a daily basis. He truly cares about the community he lives in, the people he serves and the direction our community is heading.
It's easy for most people that are running for elected position to all of a sudden, "Become involved" and tell you they care about what's happening. I will tell you from experience, Dan has been involved for years in this community at all levels. I have witnessed his caring and concern for our community and our citizens.
Dan is the Commander at the American Legion Post in Woodland Park. Dan is an Army veteran, he has served our country and lived his life upholding the values and traditions we all cherish, while at the same time defending our great nation. He understands the importance of safeguarding the rights granted to us in the Constitution. He has demonstrated this through deeds, not just words.
Dan has organized, managed and coordinated the Annual Veteran's Dinner in our community and opened it up to all, regardless if families have funding to buy the meals. Dan has organized the veteran's participation in our 4th of July celebration, Dan has been the Master of Ceremony honoring our service members on Veterans Day, Dan has coordinated and arranged fund raisers in our community, Dan has supported our community during the holiday season and during our Christmas parade and celebration. Dan assists in providing memorial services to our veteran families during their time of loss. He has been involved in so many events supporting our community the list would take up an entire page, if not more.
I have seen Dan at just about every community event and guess what, "He has been doing this for years." Dan did not decide to become involved with our community because he wanted to be elected, Dan has been involved with our community long before any election. He cares about our community, our businesses, our friends and neighbors and everyone who calls Teller county home. His dedication to doing the right thing for the right reasons is unsurpassed by others, this is who he is, and it's obvious watching him and the passion he has for our community and its citizens. Dan's passion and caring for our community and citizens goes beyond simply saying the words. His actions speak loudly, judge him by what he has been doing in our community. Many people can tell you they care about an issue or problem, Dan does the work, he takes action and is decisive and gets results. In the future when our community is confronted with emergencies or issues, I want someone who takes action and has a record of doing the right thing for the right reasons, instead of someone who give empty promises or is just around during an election. If you want experience and action Dan is the right person for the job. He has shown his abilities over and over again throughout his career and volunteerism in our community.
Over the years, I have watched Dan as he has taken on projects and will tell you regardless if they are large or small he is 100% committed to doing the right thing for everyone involved. I know he will also be 100% committed to our needs as Teller county resident. Dan always balances the needs of the county and the people, to come up with the appropriate resolution. I watched as Dan has presented issues to community leaders, Dan has a remarkable talent for presenting all side of the issue, while at the same time demonstrating a very professional but compassionate explanation that allows all sides of an issue to be understood. This is hard to do when explaining very complicated issues, but Dan's talent and leadership shines through. Dan gets his points across fairly, professionally, and accurately. Dan is also not afraid or hesitant to bring up issues that may not be popular but does it because it's the right thing to do.
Dan currently works in our Teller County planning department and has dealt with many different types of people and handled numerous planning issues. The one thing you always hear from Dan are words such as we, our community, what's right, partnership, unity, synergy, working together, all of these words also define Dan. Dan is a team player with our community members, he listens, takes action, defends our citizens and leads by example not words.
Dan is that person who builds relationships, keeps focused, does the right thing even when others are not looking, we call that integrity, virtue, and ethics. Dan is honest, committed, dedicated, trustworthy and devoted. Dan demonstrates all of these qualities and principals in his life and career Dan is someone that you can be proud of and know he will do the right things for the right reasons to maintain our communities' way of life, for all our citizens. Please join me in supporting Dan Williams for Teller County Commissioner District 1.